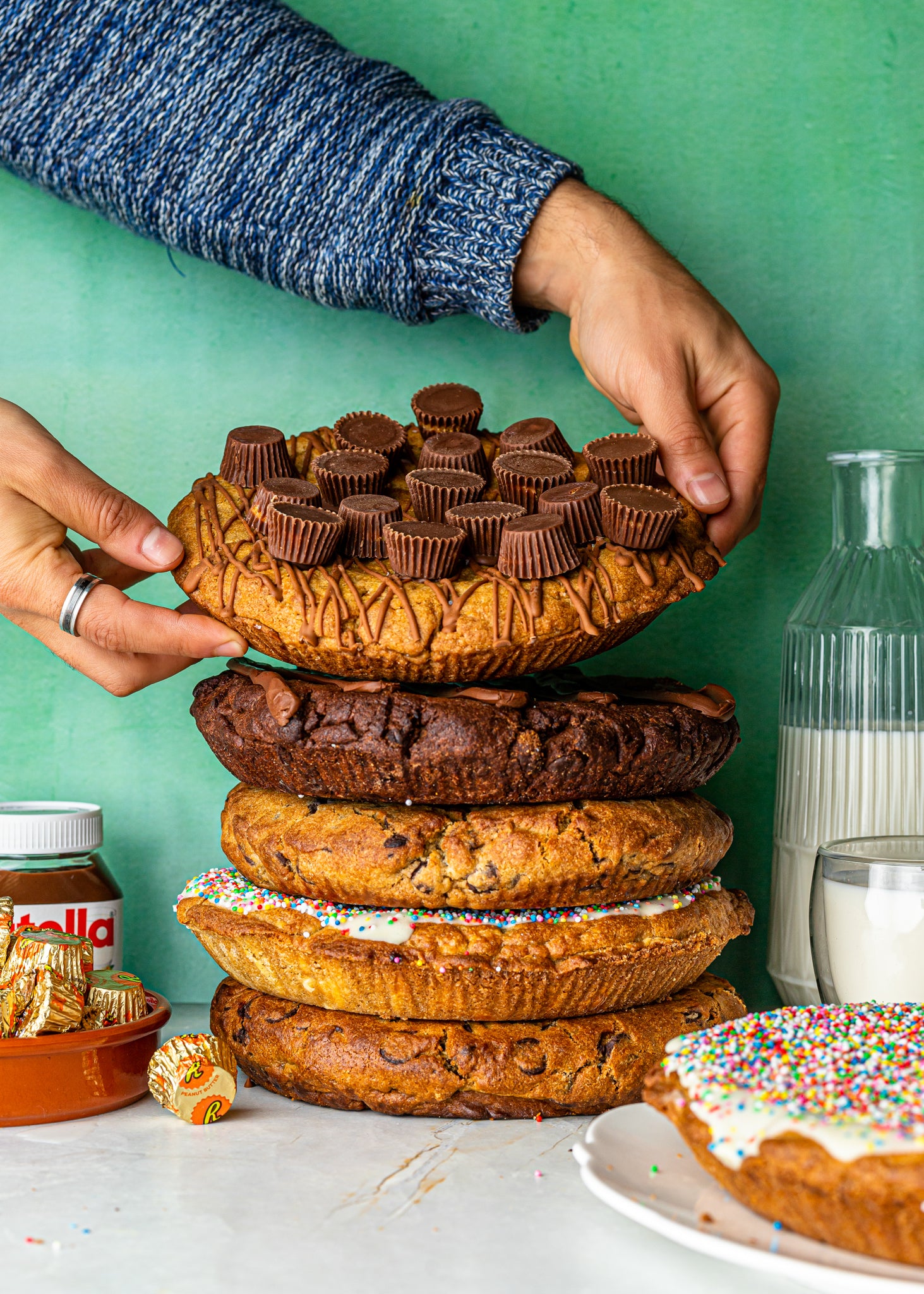 OOH IT'S THICC THICC
Introducing Australia's famous THICC 1kg New-York style Choc Chip Cookie! A super-sized version of our classic, most popular THICC cookie, the Choc Chip. It's one kilogram of delectable cookie goodness – perfectly crispy on the outside, satisfyingly thick and gooey on the inside. An irresistible combo of soft, chewy dough and Belgian chocolate delivered straight to your door, ready to heat and eat.


Shop 1KG THICC Cookies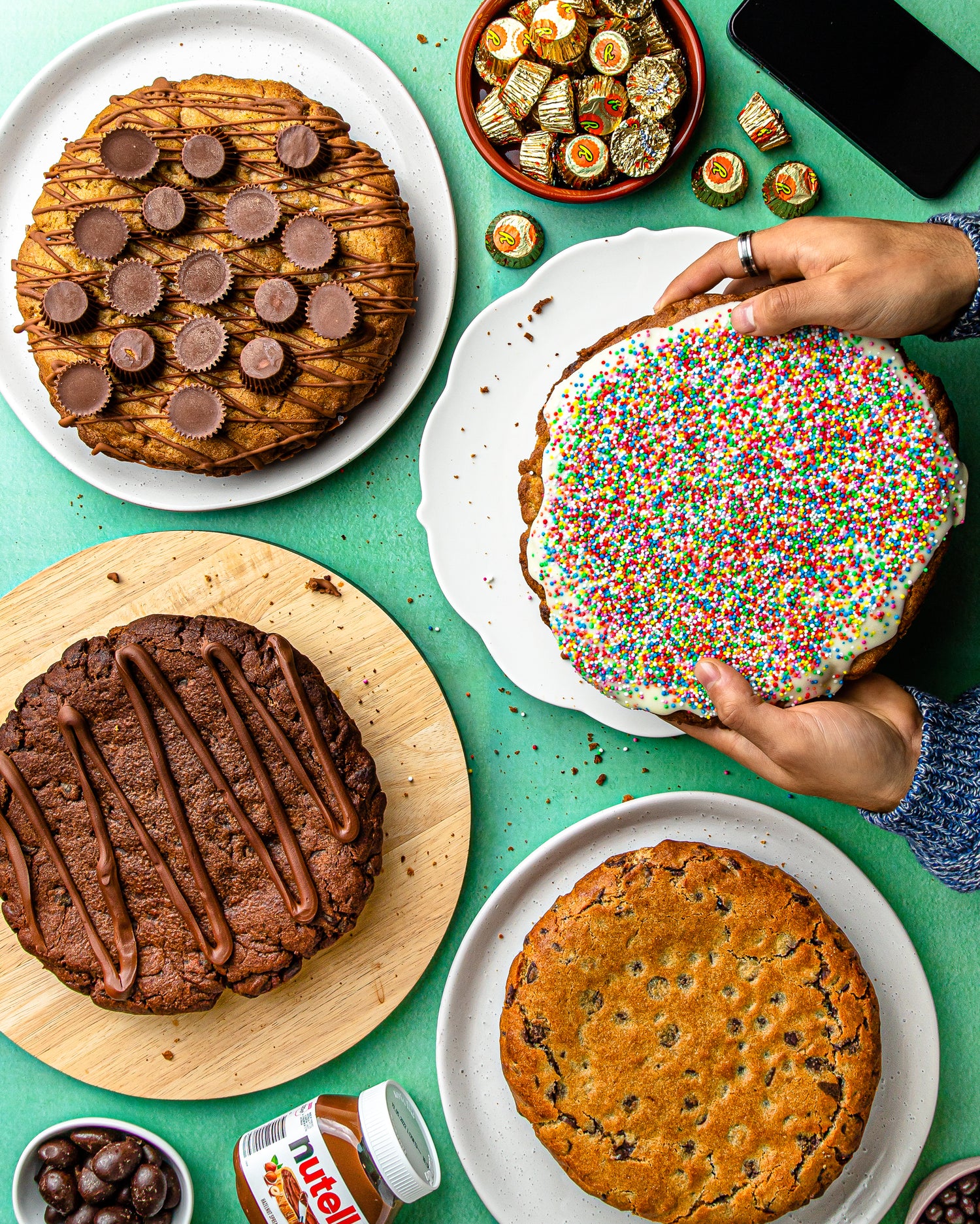 Our Story
For almost 100 years, choc chip cookies have been synonymous with New York – and they've grown in size and popularity. We fell in love with them while visiting the Big Apple. But when we returned to Sydney and craved a NY-style cookie, we couldn't find any… So, we decided to develop our own!
Our created our own recipe, baked a big batch of chunky, chewy, soft, and crunchy Choc-Chip Cookies and took them to our very first market: Sydney Tea Festival in August, 2019. Our team had a so many upcoming markets and events planned, but then the pandemic hit and Australia went into lockdown. No problem! We opened an online bakehouse and offered Australia-wide delivery. THICC Cookies was born.
Today, in addition to our 1-kilo New York-style Choc Chip Cookie, our cookie specialists often create 1kg cookies in limited edition flavours, and "smaller" THICC cookies in flavours including Nutella, Cookies 'n' Cream, Red Velvet, Funfetti Chip, Strawberry Chip, Biscoff Lotus, White Choc Macadamia, Triple Choc, and Espresso Chip.
Our aim is simple: to give you the best and 'thiccest' cookies you've ever tasted!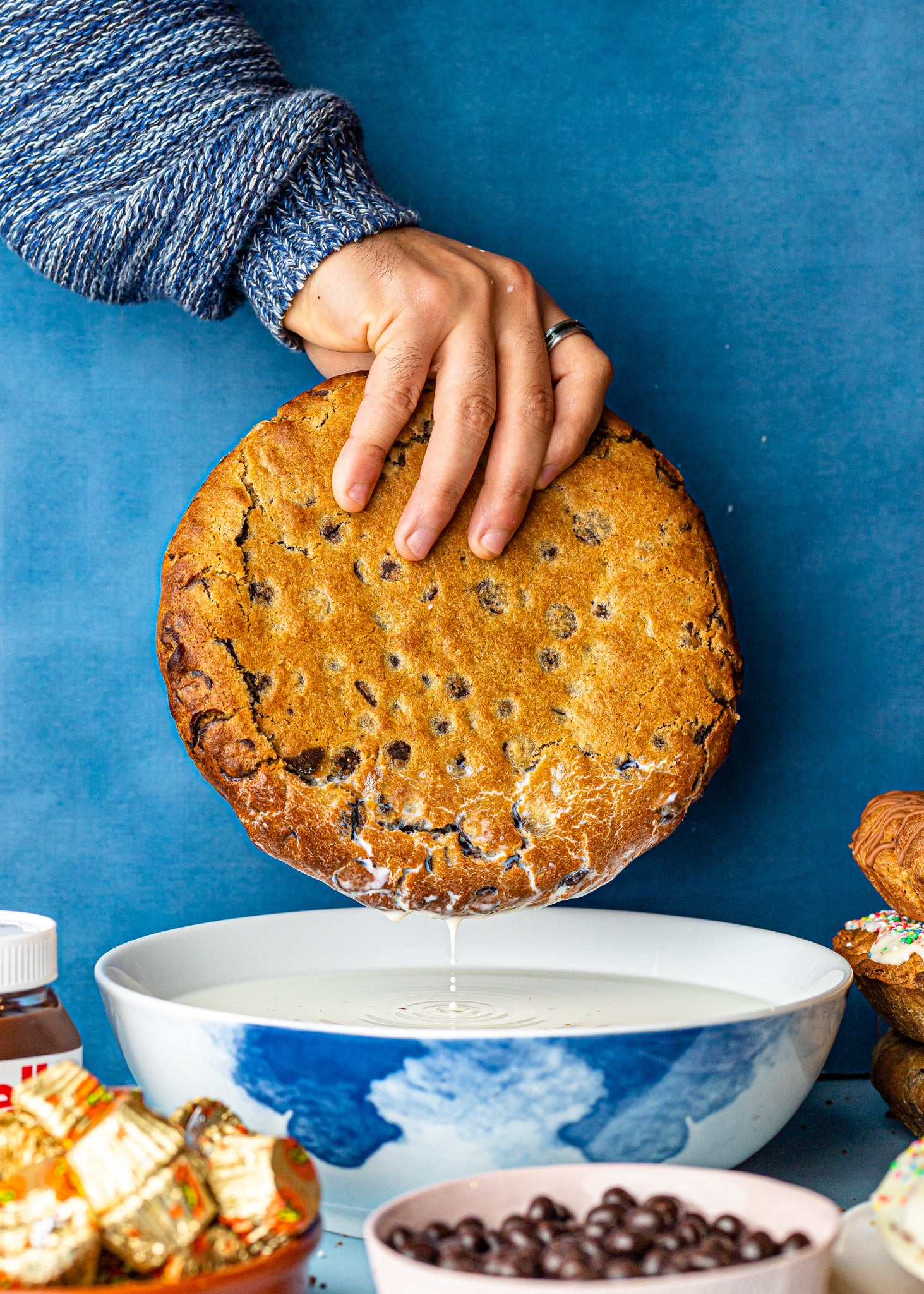 Best ENJOYED warm
When you heat your THICC 1kg Cookie in your home oven, it's like when it first came out of our oven. The softened dough and melted chocolate fill your senses and your home with that seductive 'just-baked cookie' aroma.
Our THICC 1-kilo cookie comes in a foil tray. Simply pop it in a preheated oven at 160°C for 10 minutes. Heat, break, pause. We know our THICC Cookies are an eagerly awaited delivery everyone can't wait to heat and eat, but we highly recommend dunking them in warm milk, hot chocolate, a latte, cappuccino (or any type of coffee!), or topping them with ice-cream or gelato. Upload your pairings to Instagram and tag @thicc.cookies so we can share them!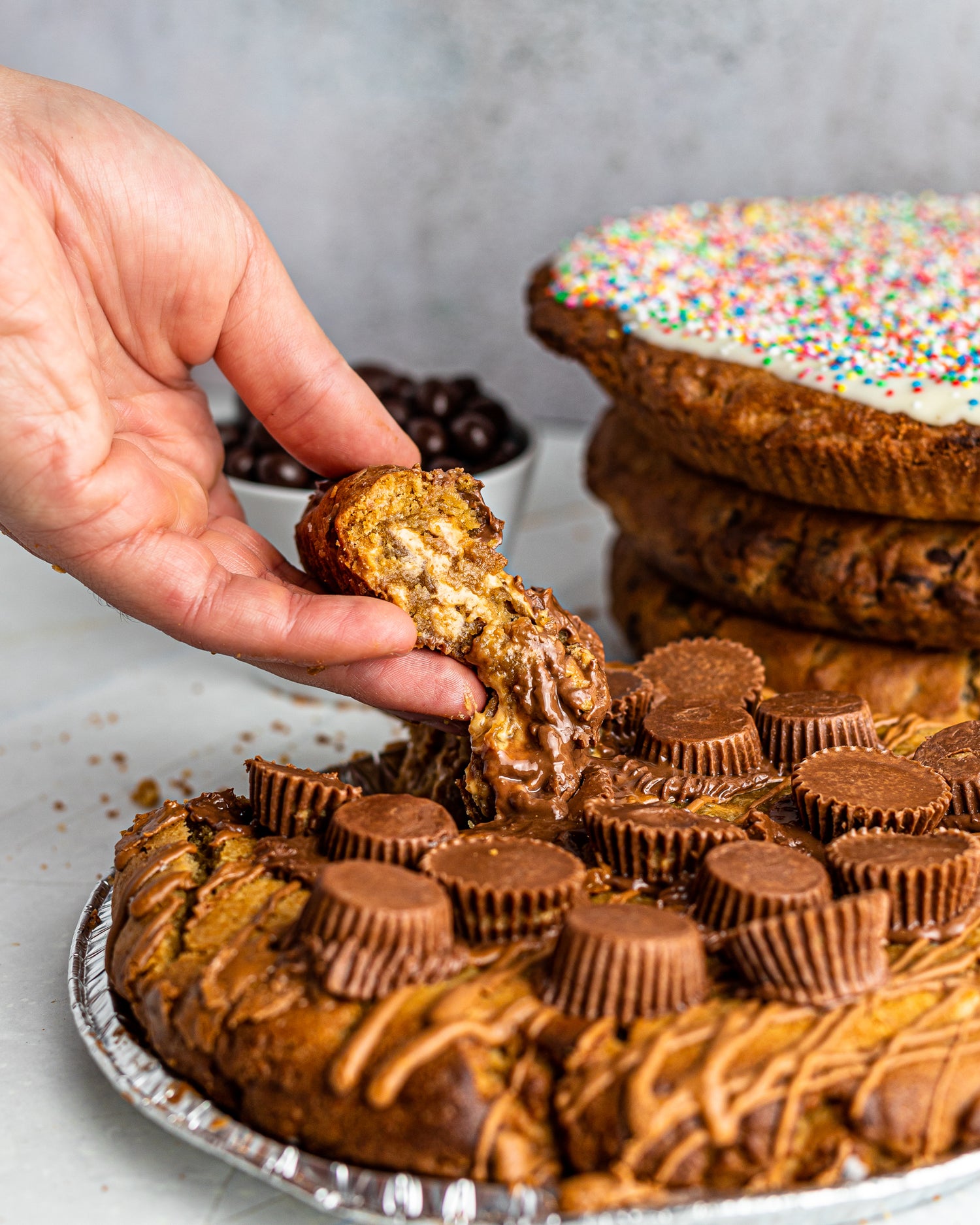 Save for Another Day
1kg THICC Cookie means you can enjoy some now and some later. Perhaps when you really need a cookie fix like no other! THICC 1kg cookies keep for a week after you get them; just store them in an airtight container in a cool, dry place at room temperature. For optimal freshness and flavour, we recommend freezing the cookie if you don't plan to eat it immediately (they freeze well for up to 2 months). Simply wrap them to protect from freezer 'burn' and pop them in the freezer. And when you crave a cookie, just defrost and heat in the oven for 10 minutes until warm and gooey or reheat from frozen in the microwave for one minute.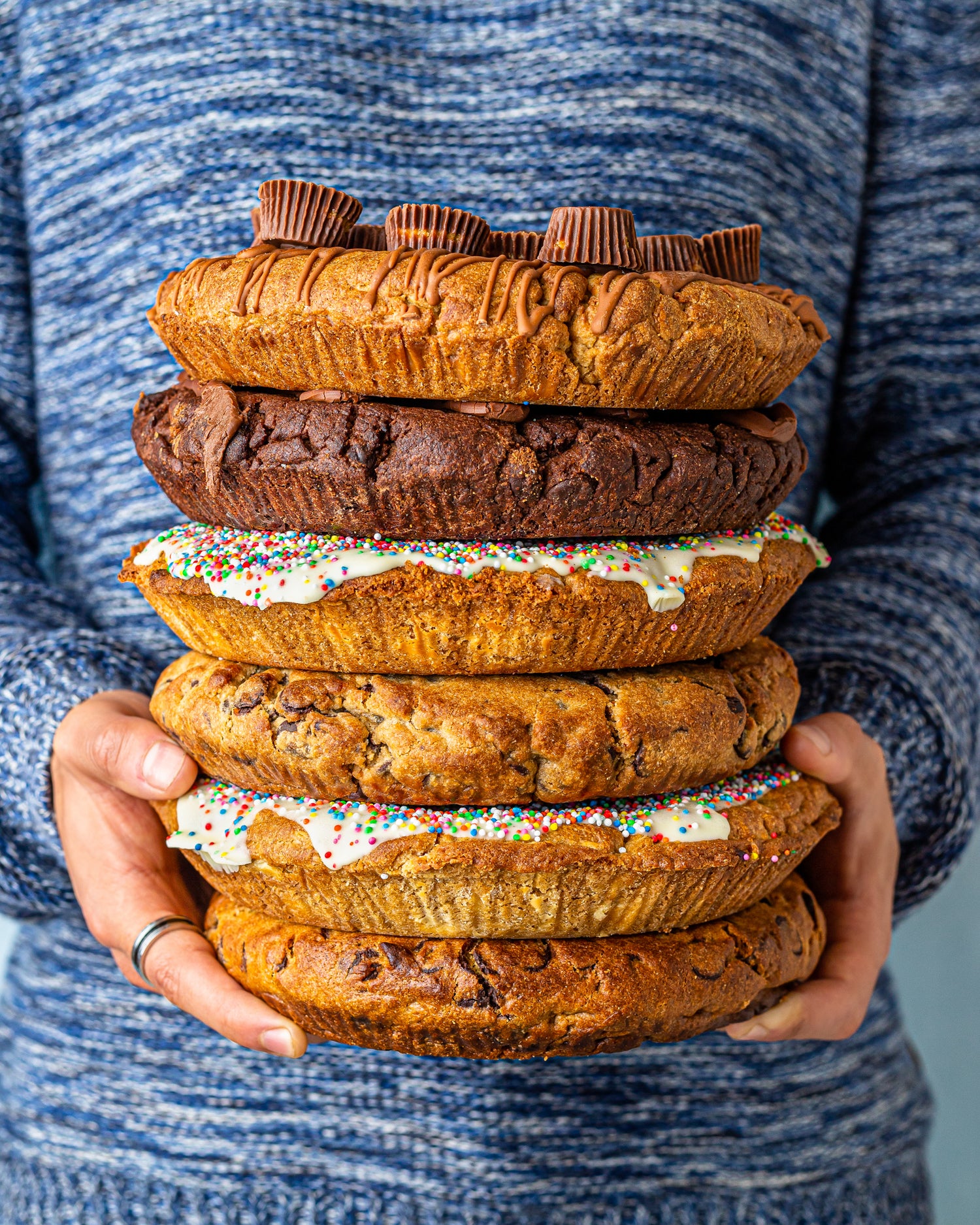 The Perfect Gift
Delicious and jaw-droppingly huge, gift-boxed and ready to heat and eat, THICC 1kg cookies make the ultimate gift for any occasion – birthdays, anniversaries, Mother's Day, Father's Day, Christmas or Just Because – or to cheer up someone special. You can even include a personalised message. It's the one gift you won't mind them breaking or sharing!
Shop 1KG THICC Cookies
What others have said about our 1kg THICC Cookies:
"The chocolate-chip stuffed marvel is soft and fudgy inside, with the right amount of chunk (a lot)."
- Time Out Melbourne
"[THICC Cookies] is selling a giant 1kg cookie set to rival all cookies!"
- Better Homes and Gardens
"The one-kilogram choc-chip- cookie from Bigg & Thicc is not only bigger than your head but is also available for next-day delivery"
- Delicious.com.au
 "These bad boys can barely be held in one hand but if size is no issue and you're keen to go hard on that sugar hit, there's a classic choc chip cookie that clocks in at a whopping 1kg. The beast gets delivered to your door in a foil tray and instructions on how you can reheat it in your oven."
- Urban List Sydney
"You can grab one (or more likely six) for the road, but for maximum hedonistic pleasure, have it heated, then marvel at the ribbons of melted chocolate as you break it in half. An extra serviette, please."
- Sydney Eat Street
"The delectable dessert is made with chunky dough and thick chocolate pieces that ooze out once the cookie has been heated in the oven."
- The Daily Mail
"Send one to a friend in need or give yourself the gift of a giant, gooey chocolate biccy."
- Delicious.com.au